Prattville Junior High School 7th & 8th Grade Girls Basketball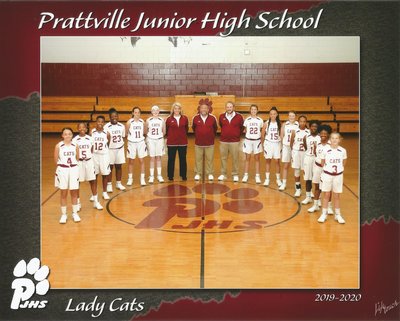 Congratulations to the 2019-2020 PJHS Girls' Basketball Team!
Athletes need to report to practice on Monday, September 23rd at 5:15. Athletes can stay after school and go directly to Coach Sandlin's classroom (room 17) for study hall or go home and report back to school at 5:15. Practice will end at 7:00.
Kaytie Chandler


Precious Coleman


Ellie Davis


Eliza Downey


Helonna Freeman


Rani Harris


U'llyriah Lewis


Mady Cate Lindsey


Kyndall McGowan


Addison Michener


Derrica Motley


Amya Smith


Jayla West-Young
Tryouts held:
Location of try-outs:
Eligibility:
Equipment Needed:
Estimate of Fees:
Practice Location:
Please understand this information is tentative and subject to change. The EXACT information will be available closer to try-outs. Once teams are selected, practice schedules, fees, and paperwork will be distributed at mandatory parent meetings. Announcements will be placed on our website approximately one month before events. In order to try out for a sport, an updated (current year) physical form (available on or website) signed by a MD and MUST be submitted to the head coach.

Check our website for further updates www.pjhscats.com

7th & 8th Grade Girls Basketball Documents