Prattville Junior High School Girls Softball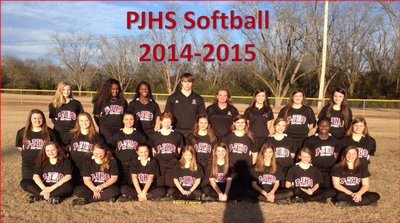 Tryouts held:
August & September at Mac Gray Park

Eligibility:
Equipment Needed:
Glove and Bat (Bat Optional)

Estimate of Fees:
Practice Location:
Mac Gray Park, across from school
Mandatory parent meeting Tuesday Sept. 18th in the PJHS lunch room at 6:30pm. Your player fee of $350 is due at this time.

Thank You
Coach Susan Wilson and Coach Scott Stein

Please understand this information is tentative and subject to change. The EXACT information will be available closer to try-outs. Once teams are selected, practice schedules, fees, and paperwork will be distributed at mandatory parent meetings. Announcements will be placed on our website approximately one month before events. In order to try out for a sport, an updated (current year) physical form (available on or website) signed by an MD or DO MUST be submitted to the head coach.
Check our website for further updates www.pjhscats.com

A physical is mandatory before you can tryout. You may pick up a blank physical form from Coach Wilson.