Prattville Junior High School Band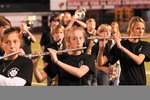 Want to come try the different instruments before you decide?? CLICK BELOW!
How do we spell BAND? FUN!
CONGRATULATIONS TO THE
2020 - 2021 BAND II
for receiving
SUPERIOR RATINGS
at the 2020 - 2021
MUSIC PERFORMANCE ASSESSMENT!!
**2021-2022 Incoming 7th Grade Students**
Instrument Testing Dates May 18 and May 20, 2021
Go to the link below to register for your try-outs time
CLICK HERE TO RESERVE YOUR SPOT FOR INSTRUMENT TESTING
CURRENT 2020-2021 STUDENTS
Check Schoology for your assignments! Make sure you turn them in!
Continue to fill out your practice logs and turn them in when we get back!
If you have any questions, please don't hesitate to email or call us.
Kenneth.hall@acboe.net
Ashley.williams@acboe.net
Current 8th Grade students moving into PHS Band next year,
check your band packet for important dates.
Beginning Band (Band I) Important Information
Beginning Band
We are excited for the new school year, even with the difficult situation we are all in. For those of you who haven't informed us of which instrument you are planning to play in beginning band this year, please let us know.
Band room supplies ( as of right now ):
1. Instrument ( and cleaning supplies for the instrument )
2. Wire music stand
3. 1" black binder
4. Clear Protective sheets for their binder
5. Pencil ( no pens )
6. Essential Elements 2000 Book 1 for your instrument
*We will update this list as needed*
Summer Band Blast (Summer band camp)
8th Grade Band supplies ( as of right now ):
1. Instrument ( and cleaning supplies for the instrument )
2. Wire music stand
3. 1" black binder
4. Clear Protective sheets for their binder
5. Pencil ( no pens )
6. Essential Elements 2000 Book 2 for your instrument
7. School shirt ( short sleeve school shirt will be used as part of the pep band uniform)
*We will update this list as needed*